PLEASE NOTE: In addition to in-person workshops, all training is now also available via Zoom. Using an onscreen blend of PowerPoint and live performance, these modules are available in one hour, two hour or extended duration formats. One-on-one or group consultation in between formal sessions can also be added to the package to extend the learning experience. And copies of Simon's book The New Academic can also be included at a special discount rate.

Whether you are an academic researcher with a story to tell or a writer of commercial fiction or non-fiction, a writing or communications workshop with Simon Clews could take your work to the next level.
For academics, in this climate of knowledge exchange and community engagement, communicating to an audience outside the Academy is becoming increasingly important for research professionals. Simon Clews offers a number of workshops for academic researchers considering engaging with a mainstream audience. The skills acquired in these workshops are essential tools for any academic, whether they intend working exclusively in Academia or whether they intend to straddle the academic and non-academic worlds.
And for writers success is not only about the words on the page, but it also revolves around the writer as 'talent' and how well you can talk about what you write, how you pitch your writing to publishers and editors and how you generate interest in both you and your work in the digital world.
For many decades now Simon Clews has been working with writers and academics around the world to help them improve their written and oral communication skills and their non-fiction writing. His client list includes:
ETHZ's Future Cities Laboratory at the National University of Singapore
Melbourne University
Australian National University, Canberra
National Book Development Council of Singapore
University of British Columbia, Vancouver
Griffith Review, Australia
University of Hong Kong
University of Edinburgh's Beltane Centre
Camberwell Girls Grammar School
University of Western Australia
Thaksin University, Thailand
The Rhodes Trust, UK
Murdoch Children's Research Institute, Australia
The Doherty Institute, Melbourne, Australia
A*Star OSCAR, Singapore
Science Pathways, Australia
Professional Historians' Association of Australia
Edith Cowan University, Perth
University of Queensland
CQ University, Australia
Burnet Institute, Melbourne
Walter and Eliza Hall Institute, Melbourne
Baker Institute, Melbourne
The University of Canberra
RMIT University, Melbourne
University of Tasmania
University of Victoria, Vancouver Island
Royal Children's Hospital, Melbourne
Student Orthopaedic and Musculoskeletal Association, Australia
Mac.Robertson Girls' High School, Melbourne
St Paul's Hospital, Vancouver
Surrey International Writers Conference, Vancouver
Australian Medical Students' Association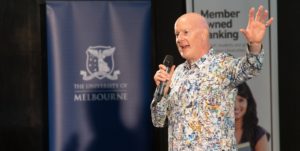 The following workshop topics give an idea of what Simon can offer, but are by no means the limit of his program. In fact, Simon quite likes being told who he is to be teaching, how long he has them for and what you as the organiser would like them to learn – he will then create a tailored program to suit your needs.

Presenting on Screen – an essential skill in the time of COVID-19, this session looks at the skillset and technology required to keep communicating via Zoom, Skype or other means.
Getting the Word Out and Getting Your Message Across – Learn how to generate public interest in your work and become what the media refer to as 'good talent.'
Communication Skills – Highly developed written and oral communication skills are vital to getting your message across and making your mark on the world.
From Researcher to Writer – Learn how to make the most of your research material to write creative non-fiction for an intelligent, non-specialist audience.
Working with the Media – Learn how to get your message across effectively in a world dominated by the 24 hour news cycle
Writing Opinion Pieces – The 'op. ed.' pages and their burgeoning online counterparts are great places to be seen and to get your voice heard. Learn how to pitch and write winning opinion pieces for newspapers, magazines and online.
Social Media – Social media is an essential tool for any academic or writer. Learn how to get the best out of such key channels as Twitter, Facebook, Tumblr and Instagram.
Blogging Your Research – This workshop is for academics, researchers and postgraduate students who want to develop a blog as a means of engaging the public with their research.
Writing for Newspapers and Magazines – A look at pitching and writing short, sharp non-fiction pieces for the popular media.
Documentaries and Exhibitions – Take your ideas from 2D to 3D. Learn how documentaries and exhibitions are put together and how this process can be applied to your work.                                                              
Making Effective Presentations – Learn how to stand at the front of a crowded room and mesmerize the audience with your presentations skills.
What Have You Got to Say? – Assess your potential as a writer and identify potential markets for your work at a local, national and global level.
The Business of Becoming a Writer – Gain insight into the practicalities of writing for a living. This workshop covers many topics from establishing yourself as a small business to optimizing your social media use.
Making Writer Videos – Whether it's a short, sharp TikTok or a lengthier promotional video on your website, writer videos are a great way to promote your forthcoming book.
Self Publishing 2.0 – Self publishing is now an acceptable way for any academic-turned-writer to take control of their own work. This workshop aims to teach you how to make your mark in this flourishing sector.
Less is More: Editing – This workshop looks at distilling and crystallizing your writing and includes a number of tried and tested editing techniques.
Just Write Better – Improve your writing, make it more effective and get your message across in a memorable way.
Simon offers group and individual training in the Three Minute Thesis and Visualise Your Thesis competitions.
And for those who want a longer, more intensive, deep dive into all this, Simon offers the Writers' Weekend Bootcamp and the Communications Weekend Bootcamp.
Please contact Simon to discuss your training needs.